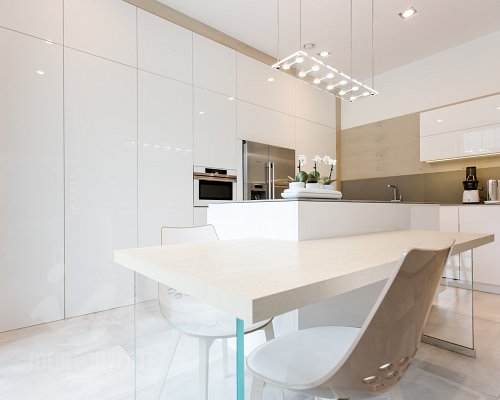 Modern kitchens - the latest technical solutions combined with simple shapes, wide drawers, and full ceiling construction.
The furniture features a varnished front in a matt finish in combination with a top that often imitates wood. In modern kitchens, we also very often make granite and quartz conglomerate countertops. The modern design is complemented by household appliances, in particular the use of a hood, which is not only to be functional, but also to emphasize the modern design of the room.
At the same time, while maintaining simple shapes, kitchens are more and more often made as natural-looking as possible, patterns and colors taken from our surroundings. Wide graining, tops with intergrowths, as well as flamed ones, with small thickness (e.g. 2 cm). The colors are dominated by natural wood combined with elements of matt varnish.
---